Overview & Features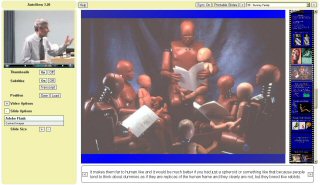 AutoView is a cloud like Lecture Capture and Live Broadcast system for Distance Learning Providers. It is intended to replace the more traditional PC based Lecture Capture software with a single, easy to manage, centralised service integrated with your Moodle VLE and operating entirely within the web browser.
Unlike competing products, AutoView operates as though it were a part of your VLE and does not require teachers or students to move out of the VLE environment in order to watch video courses or participate in live lecture broadcasts.
AutoView is a cross-browser/platform compatible and can be used with the majority of commonly available web browsers and operating systems. Use the links on the left hand menu to find out more about AutoView.
The AutoView system consists of a number of separate parts which build up to form a complete video presentation system, bringing the lecture hall into the home or the office via the internet.
View the AutoView Advertising Leaflet (PDF)
Features
AutoView has a feature rich delivery platform which can be configured to match your requirements. Some of the main capabilities are listed below :
Video presentations with synchronised slides and/or subtitles.
Presentations can be viewed via the web or from CD, hard disk etc.
Works with both 56k modems and broadband.
Full multi-lingual support for subtitles, slides and videos.
Subtitle transcripts.
Translatable interface.
Themeable/Configurable interface.
Slide summaries (Using PDF's or Images) for printing or download.
Slide Thumbnails.
Drop down slide menu.
Slides presented using Flash and/or JPEG/GIF images.
Video for web presentations can be served via dedicated streaming servers1 or http download.
Moodle module with a browser based editing mode.
Lecture Capture Live add-on providing:

Lecture Capture mode for direct recording of presentations to the server.
Ability to broadcast a live lecture to a remote audience.
Presentation conversion.

Video delivery using variety of plugins :

RealPlayer
Quicktime
Windows Media Player2
Flash Video
VideoLAN VLC
Java 3
HTML 5 5

Save/Restore video position.
Automatic detection and selection of available browser plugins.
W3C XHTML 1.0 compliance for wide browser support, including :

Internet Explorer
Mozilla Firefox (and related browsers)
Opera
Safari

Cross platform compatible 4

Windows XP/Vista/Windows 7
Linux
Apple Mac
iPad
Solaris
Notes :
We can supply a Flash video streaming solution as part of AutoView Lecture Capture Live. Other streaming servers are obtained separately from relevant vendors.
Windows media player mode only works in Internet Explorer/Windows.
Java mode is audio only.
Not all video plugins are available for all platforms.
Disabled by default, click here for more information.
Last modified: Monday, 10 March 2014, 11:38 PM