Lecture Capture Live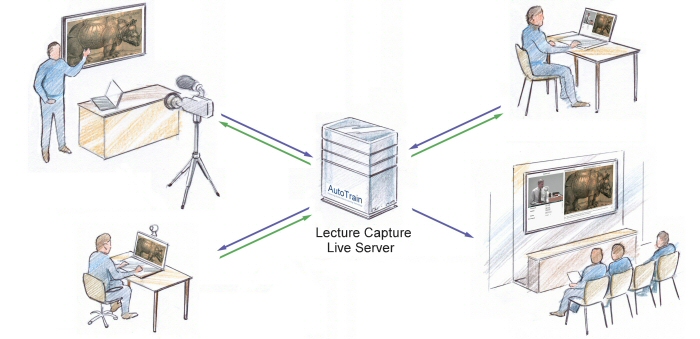 This feature is an extension of AutoTrain e-Learning's long established AutoView technology, which allows you to broadcast your lecture live to a remote audience from within the Moodle environment. A Flash enabled web browser is the only software required to use the system.
With this feature, the presenter logs on to the server in live lecture mode and uploads the presentation slides. The lecturer then gives the presentation at the appropriate time. Students can log on to the lecture through an emailed link or directly from their course's home pages. During the sessions they can ask questions or request a clarification in a chat forum. The lecturer can then respond to all questions verbally in real time. Multiple questions can be dealt with simultaneously, providing a truly interactive learning experience. The presentation, including student questions appearing as subtitles, is automatically archived on the server and can be referred to by users in the future at their convenience.
| The Students View | The Lecturers View |
| --- | --- |
| | |
Lecture Capture Live also has an alternative pre-recording mode which is intended to allow presentations to be easily recorded directly onto the server for later viewing by students. The recorded presentation will be available for immediate use once the recording has been finished.
Pre-Recording Mode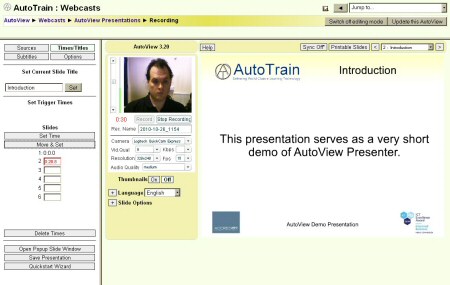 The AutoView system truly recreates the lecture room within the virtual environment and is easily accessible to all users from both home or office.
AutoView Lecture Capture Live Features :
Single broadcast can be relayed to many remote clients, only limited by the capacity of the server.
Instantly updated client count so you know how many people are watching.
Presenter can instantly trigger slide change on all clients.
Viewers can type in questions via an integrated chat system.
Chat comments are shown to users with the initiator's name.
Chat system can handle many simultaneous users.
Chat comments are recorded as time-indexed subtitles for later review.
Slide change time-indexes are recorded. This allows the lecture with slides to be played later and archived.
Cross platform, supporting: Windows, Linux, Mac OSX.
Cross browser, supporting: Internet Explorer, Mozilla Firefox, Opera, Safari, Chrome.
Video and chat comments are automatically recorded on the server.
Integrated video streaming with Moodle authenticated access for flash videos.
Demo Version
A limited functionality demo version of the Lecture Capture Live system can be supplied on request (please contact us). This demo can be installed on your own server for evaluation purposes. You can purchase a licence code from AutoTrain to unlock the demo version and gain full functionality. Please contact us for for further details. Pricing will depend on your expected usage of the system, so please tell us how many simultaneous recordings/broadcasts you expect to need.
We recommend that you try out the demo version on your own server before purchasing a licence code from us. If you want to carry out a more extensive evaluation of the software than is possible with the public demo version, then please contact us and we can either arrange an enhanced demo licence or a test account on our server.
What do I need to use AutoView Lecture Capture Live?
On the server
The ability to install new software on your web server
A PHP 5 and Java 1.6 enabled web server with Moodle 2.6 or better
The AutoView Moodle module
The commercial AutoView Live Lecture/Live Capture plugin.
A Red5 flash server
On the Client
1024x768 Screen resolution
A webcam and microphone
A Flash enabled web browser

Internet Explorer and Firefox under Windows and Linux are currently supported
Other OS's with a suitable flash plugin should also work, but this has not been tested
Note : Document conversion functionality is separate from the Lecture Capture Live system.
Download the AutoView advertising flyer.
Last modified: Wednesday, 12 August 2015, 5:29 PM